Tire Reporting
View registration status and check for submitted records that may be affected by an open recall.
Know Your Customers Affected by Recall in a Single Click.
It can be difficult to keep up with managing shop records for tire recalls and registrations. Tire Registration Plus offers strong tracking and reporting capabilities that allow you to view customer and registration data with a single click, including customers who are affected by a tire recall. This gives your shop the ability to be proactive and the ability to be proactive and provide your customers with the best possible service.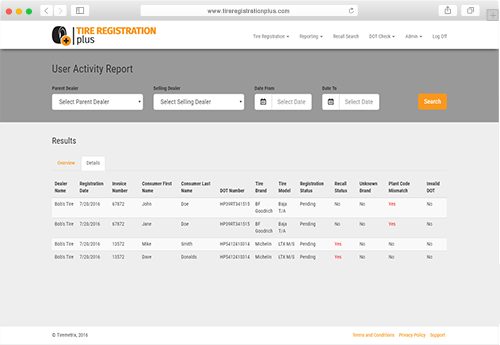 Advanced Reporting for Multiple Locations
GGet the most out of tire registration for your business! View location activity, registration statistics and DOT number accuracy across multiple locations using our advanced administrative reporting.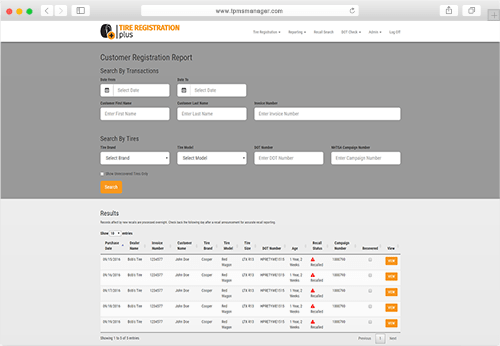 Registration History
Quickly and easily retrieve your submitted registration records: search for records by a variety of fields, get their delivery status and get vital customer and title information related to tire recalls.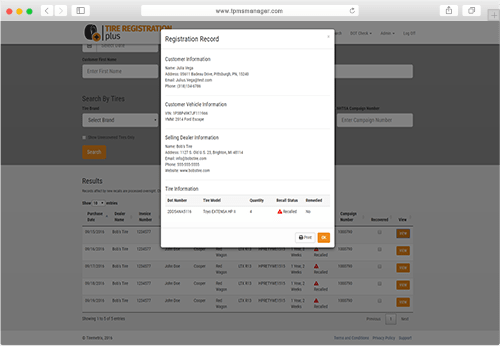 Registration Details
View detailed registration information, including customer contact information, customer vehicle information, selling dealer information and tire information, including the DOT number and recall status.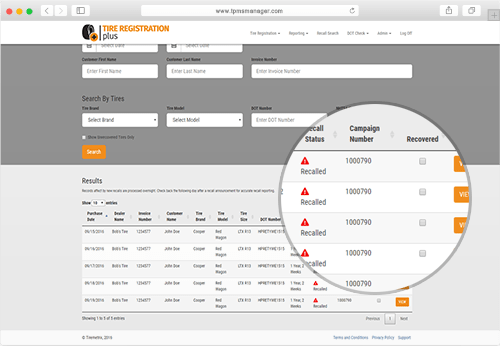 Recall Replacement
After discovering that you have a customer who is affected by a recall, contact them to get their recalled tire replaced. Keep track of their replacement status and keep them away from your competitors.
Get instant access to the most advanced tire registration solution
Join the thousands of tire dealers who count on Tire Registration Plus for NHTSA compliant electronic tire registration.
Sign Up Now!