Electronic tire registration and tire recall management
integrated directly into
TireShop

by Freedomsoft.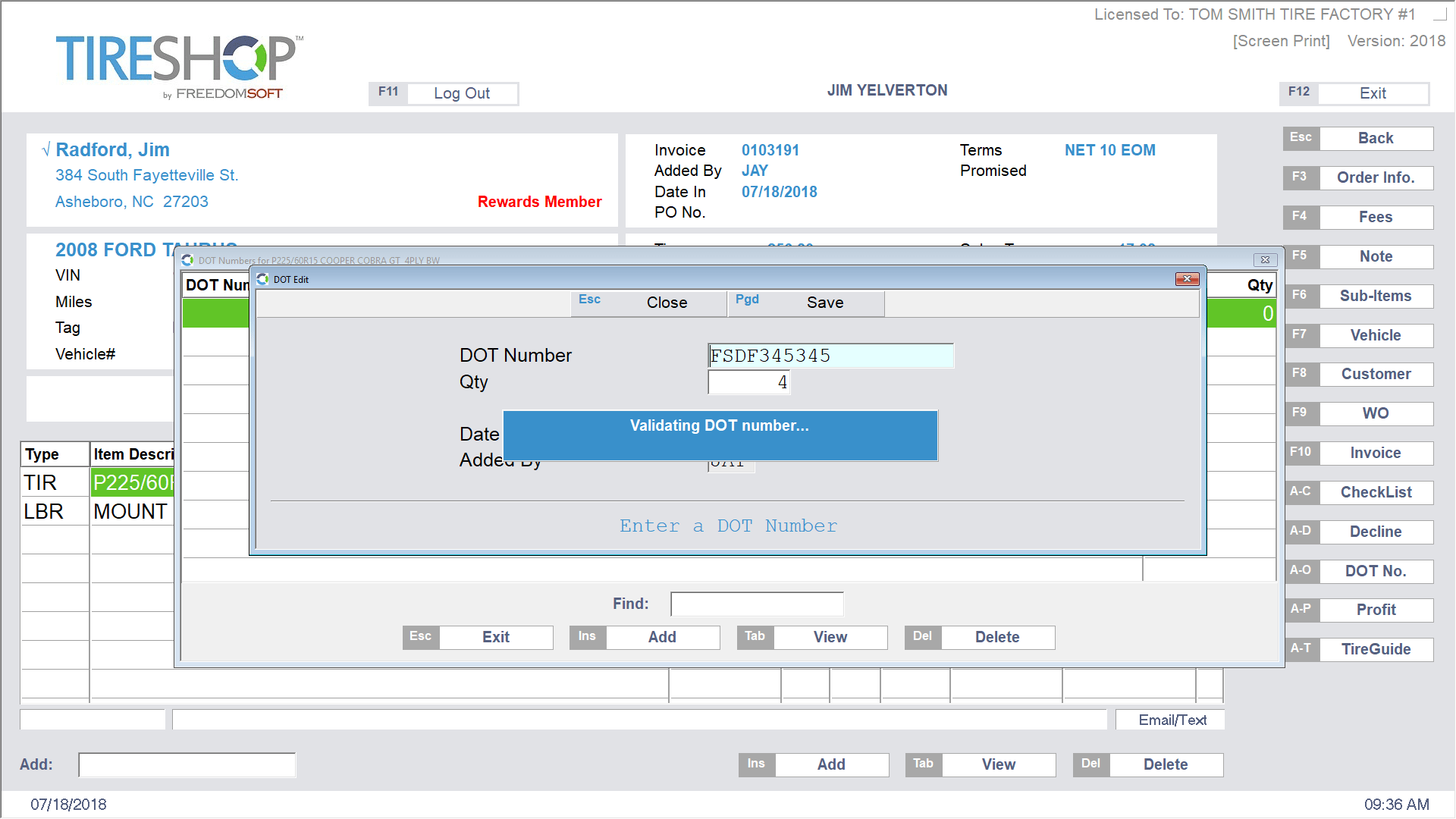 Get Tire Registration Plus for only $20 per Month (50% off)
or $216 per Year (Additional 10% off)
Sign up now!
For multi-location setup, please give us a call at 810.355.4655
NHTSA Compliant in 3 simple steps!
With Tire Registration Plus, there is no need to hand out postcards or visit hundreds of tire manufacturer websites. In 3 simple steps, register every tire you sell and comply with federal regulations.
1
Sell the Tire
Sell the tire as you normally would through the Tireshop platform.
2
Enter the DOT
Enter the DOT tire identification number and get real-time validation and safety alerts.
3
Done
Validated records are automatically submitted to the responsible tire manufacturer.
Tire registration is the law
Each independent distributor and each independent dealer selling or leasing new tires to tire purchasers or lessors (hereinafter referred to in this section as "tire purchasers") shall comply with paragraph (a)(1)(i), (a)(1)(ii) or (a)(1)(iii) of this section:
(iii) Electronically transmit the following information on the tire registration form by any means listed on the form by the tire manufacturer, or by such other means as may be authorized by the tire manufacturer, to the tire manufacturer or its designee, using secure means (e.g., https on the Web), at no charge to the tire purchaser and within 30 days of the date of sale or lease:
The purchaser's name and address,
The entire tire identification number of the tire(s) sold or leased to the tire purchaser, and
The distributor's or dealer's name and street address. In lieu of the street address, and if one is available, the distributor or dealer's e-mail address or Web site may be recorded. Other means of identifying the distributor or dealer known to the manufacturer may also be used.
We make the process easy and affordable.
One of the
easiest decisions
I've ever made
"Tiremetrix created an easy to use tire registration platform that delivers real benefits for my business and my customers. Now, every tire is checked for accuracy, age and recall status before the customer leaves the shop. For me, it's about more than just being compliant."
Joseph Rice

President at

Tire Registration Plus Features
See how Tire Registration Plus can help protect your customers and your business with our industry leading validation and safety features.
DOT Validation
Our advanced DOT tire identification validation helps ensures you are sending accurate records to the tire manufacturer.
Recall Warnings
Never sell a recalled tire again. Our recall check will warn you during the registration process if a tire is affected by a recall.
Aging Warnings
Never sell an aged tire again. Our age check will warn you during the registration process if a tire is over your age limit.
Recall Search
Search our custom recall database by DOT tire identification number and get recall information directly from NHTSA.
Registration History
We store every registration in our secure cloud environment. Retrieve your records and see if you have any customers affected by recalls.
Get started today with the most advanced electronic tire registration solution.
Sign up now!
For multi-location setup, please give us a call at 810.355.4655